Facebook™ Engagement Hacks: How To Get More Attention & Leads
In this episode I give you some of my best Facebook hacks to help you get more eyes on your content and more leads for your business. I call it the F.A.Q. method (it stands for Friends, Activity, Quality).
Engagement keeps going down on Facebook. It's getting harder and harder to even get your content seen👀
---
Less than 6% of your Facebook friends are even seeing your posts? Yep, true story

😭
---

It's the sad reality as Facebook pushes us more toward spending💰on ads.
So, should you just give up and head on over to TikTok or Instagram where the organic engagement is much better right now?
Yes✅and no❌(more on these other platforms later).
There's still a ton of engagement to be had on Facebook and it's still the primary social platform my team and I use to build our businesses📱
---
You just have to know how to tap into it
---
So, what's the secret? You need to boost your organic reach.
I have some little known hacks that you can start using right now to get better engagement on your next post, guaranteed. Your friends will be so jealy!



And of course the more visibility and reach your posts get, the more warm leads you have for your business. Crushin' iiiiiit!!!

Hack #1: Engage With Your

Friends

Most people think that the more friends they have on Facebook, the more people will see their content and the more engagement they'll get.
This is NOT the case❌
The algorithm actually prefers a higher level of engagement with your friends. I'll give you an example...
---
Let's say you have 100 friends on Facebook.
You might think that's a super low number and your engagement will suck. Well, that's not necessarily the case.
If you talk to 50 of those friends on a regular basis, that's a 50% engagement rate with your friends list which is super high.
The algorithm will reward you for that by increasing the number of people it shows your content to.
---
Have you ever seen those people on Facebook with a small friends list but their engagement is crazy high and wonder how they do that?🤔This is how.
So if you have 1000 friends but you're only engaging with 50 of them regularly, that's only a 5% engagement rate.
In both examples, you're engaging with 50 people but one is a 50% engagement rate and the other is only 5%. The algorithm is actually punishing you for having friends you're not connecting with🤯
Time to clean up your friends list!
Make it your goal to only have people on there that are active and potential prospects for your business.
There's an awesome Chrome extension you can use to identify and quickly remove inactive Facebook friends. It's called Friend Filter Pro.
There's a free🆓version that allows you to remove 10 friends at a time or the paid version that lets you go buck wild.
------ Click here to download the free extension ------

The FriendFilter tool sorts your engagement within the past 90 days so you can see who's engaging most and who's not engaging at all.
I recommend deleting❌anyone who's not engaging and guess what? The top engagers are your hottest leads! CRUSHIN' IIIIIIIIT!!!!!!
You can also use the Facebook Birthday🥳feature to stay on top of engaging with your friends list daily.
Every day I check out who's birthday it is. If it's someone I like and want to say hi to, I'll wish them a happy birthday. If not, #byeFelicia
I know, sounds kinda mean but they don't actually know they're being deleted so it's fine🤷🏼‍♀️
---
WANT TO LEARN HOW TO GET MORE CUSTOMERS ON SOCIAL MEDIA?
---> Click here to download now <---
---

Hack #2: Increase Your

Activity
There are two categories of Facebook users. ACTIVE and PASSIVE.
An active user is consistently engaging on Facebook, every day. They're using all the features like Stories, Messenger, commenting and they're not just liking posts, they're using the love (heart), laugh, sad face, etc. (these are actually valued higher than regular likes).
A passive user consumes content but rarely uses the features and doesn't comment or "like" things very much.
Guess which one the algorithm favours? Yep, the active users.
---
As the saying goes, give and you shall receive!
---
The same goes for social media. The more engagement you give to others, the more you will receive in return👯‍♀️
This has been one of the most impactful tweaks I've made and it works like crazy!
Spend 20 minutes a day engaging with others and they'll instantly become warm leads for your business🔥
Hack #3:

Quality

Over Quantity
With 2 billion active Facebook users, the feed is getting super clogged. This means the algorithm is forced to favour high quality content over the "filler" stuff.
---
One impactful post, that creates lots of engagement and conversation, is 100x better than 3 half-assed posts through the day.
---
So how do you create higher engagement and conversation❓Add value and ask questions.
What do I mean by value? Something that educates👩🏼‍🏫, entertains or inspires. If you can combine all 3 of these into one post, that's #money!
And you might hate me for saying this but it's all about VIDEO these days🎥
It won't be long before your feed is entirely video content. So if you want to win the engagement game, that's what you gotta do.
And live video is significantly preferred over pre-recorded.
If you're feeling nervous🥵about doing live videos, don't worry, your audience does NOT want to see you being perfect. That's actually really un-relatable.
Authentic and real is winning across the board right now so just be yourself💁‍♀️and don't take yourself too seriously.
I'll do a future blog post on how to master live video but for now, if you want to practice, just set your audience to "Only Me" and you can play around without anyone seeing.
Just remember to change it back to "Public" before you do your real one✔️
Here's one more little hack that may seem small but it's mighty💪(I learned this from the engagement boss himself Mr. Frazer Brookes).
Show up consistently with the same kind of content at the same time.
For example, every Monday maybe you post a Motivation Monday story with text and an image at 8:00am. Then, on Tuesdays you do a Facebook live at 8:00pm. Wednesday you share a quote at 12:00pm and so on.
---
Showing up with the same type of content on the same day of the week at the same time will give your engagement an added boost.
---
Rinse and repeat this schedule of activity.
Plus your audience will appreciate your consistency which will also give your Know, Like and Trust factor a serious boost (aka more sales and distributors signing up!). Crushin' iiiiiiiiiit!!!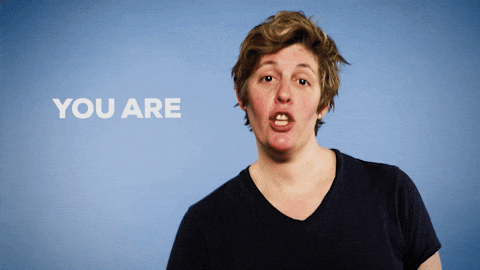 ---
Set your profile to PUBLIC (for both content and comments).

Why? Because we're in the networking business and good content will get pushed out to new eyes, but only if you're set to Public. Friends of your friends will be shown your content if Facebook thinks it's good (and let's be honest, after implementing these hacks, your content is gonna be fire🔥).
---
I hope you got value from this post. If you're consistent, these strategies will pay off. It's not a matter if, it's a matter WHEN!
Want more free coaching to crush it online in your Network Marketing biz?
👉🏼Join my FREE Facebook Coaching Group
KEEP CRUSHING!!!!
XO Jenn


---
A great place to start learning how to get customers on social is with my FREE guide...
"How to Get Customers on Social Media"

Click here to Download now ---> here
---
Connect with Jenn on Facebook: Facebook.com/jenngoodallbiz

Follow Jenn on Instagram: Instagram.com/jennleegoodall
Want to work with Jenn? Click Here
Email Jenn at [email protected]